African Schools Outreach Programme
The activities of the IVVN's flagship outreach programme have continued to recover from Covid-19-related disruption over the past year. We look back at recent workshops in Kenya.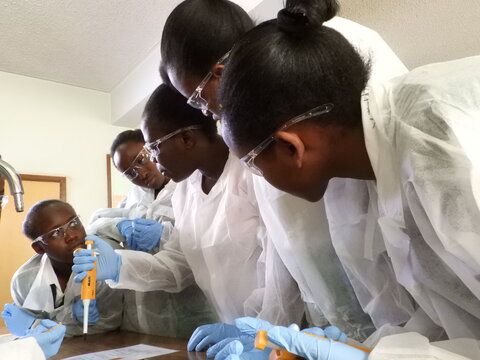 The IVVN African Schools Outreach Programme focuses on promoting gender balance in veterinary vaccinology, one of the four work areas of the Network.
The programme equips a network of women African scientists with the knowledge and tools they need to host interactive workshops in their local schools, with the ultimate goal of inspiring young girls to be the next generation of scientists. Since its launch in Kenya, Nigeria and Zambia in 2019, the Programme has expanded to include instructors in South Africa, Ethiopia, Cameroon and Uganda.
This year's International Women's Day theme was #BreakTheBias, underlining the need for a gender-neutral world free of bias, stereotypes and discrimination. Such stereotypes are perpetuated in agricultural science by the relatively low representation of women – data collected by the International Food Policy Research Institute highlights that women in agricultural research in Africa represent just 24% of researchers on average.
The IVVN African Schools Outreach Programme challenges these stereotypes by giving the students in the workshops hands-on experience of scientific techniques and giving them the chance to interact with inspiring African women researchers. The workshops are accompanied by careers sessions, where the team discuss their work and how they became scientists.
The Programme was shortlisted for a Nature Research award in 2020. After a period of disruption because of the Covid-19 pandemic, the outreach workshops resumed last year, and activities continued in 2022.
Thanks to our IVVN African Schools Outreach Programme delivery partners for their support. These partners include African Women in Agricultural Research and Development, the Roslin Institute, the Easter Bush Science Outreach Centre, the International Livestock Research Institute, the Global Challenges Research Fund, the Scottish Funding Council, and the outreach team members' institutes and universities. Visit our Outreach page for more information.