International Day of Women and Girls in Science celebrated with outreach activities in Kenya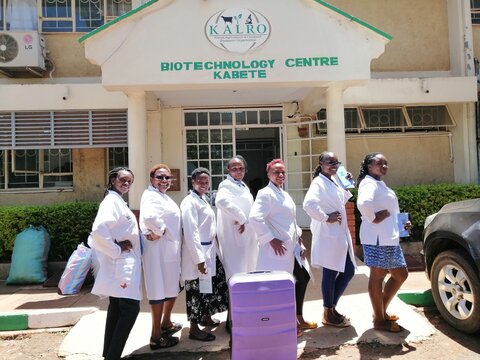 The International Day of Women and Girls in Science was first established in 2015 by the United Nations General Assembly to acknowledge the critical role women and girls play in science and technology worldwide.
To mark International Day of Women and Girls in Science 2023 (IDGWIS), and to continue efforts to increase the participation of girls in science, Dr Esther Kanduma from the University of Nairobi assembled a team of inspiring women scientists and travelled to Taita-Taveta County in Kenya to deliver a series of science outreach activities. The theme for IDGWIS was "Innovate, Demonstrate, Elevate, Advance and Sustain to bring communities forward for sustainable and equitable development."
During the six-day visit, the outreach team facilitated a vaccine laboratory workshop to 267 students across three schools in the county: Canon Kituri Secondary School, Mwatate Secondary School and Mwasere Girls High School. As part of the workshop, students were informed about human and animal infectious diseases and how they can be controlled using vaccines. They were then introduced to analytical tools and resources to perform their own rabies vaccination screening assay. After the workshop, the scientists delivered motivational mentorship talks to the whole school addressing over 2,400 students across three schools.
Celebrations to mark IDGWIS were held on 11 February 2023 at Mwasere Girls High School. The Taita-Taveta Deputy Governor, her Excellency Ms Christine Kilalo, presided over the celebrations urging the girls to embrace science subjects and science careers to bring about transformative change in the community.
In addition to engaging school students, the outreach team trained and empowered 91 dairy and poultry farmers in nutritious feed formulation and animal disease control.
Dr Esther Kanduma said: "Thank you IVVN for this innovative program, we loved every bit of our engagement in Taita County, it was truly amazing and inspirational. Indeed, a great opportunity to advance and sustain our outreach efforts and commitment to bring forward marginalized communities to contribute to sustainable development."
Victoria Pendo, Mwasere Girls High School Captain said: "Thank you so much for choosing to visit and celebrate IDGWIS in our school. We have never had such an opportunity before."
These activities are supported by the IVVN and Ke-AWARD and form part of the IVVN's African Schools Outreach Programme.