Workshop Report: African Vaccinology Network (AfVANET) Scientific Workshop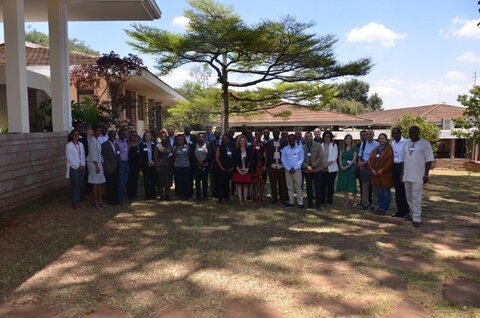 The African Vaccinology Network (AFVANET) hosted its first scientific workshop at the International Livestock Research Institute (ILRI) Nairobi, Kenya on March 19th and 20th, 2019. AfVANET was established with the goal of bringing together African and non-African partners interested in vaccinology, and to better involve African scientists in finding and designing solutions for infectious diseases of humans and animals that negatively impact the health and economy of Africa.
30 delegates from 13 countries attended the workshop, including early career researchers, scientists, researchers and officials from Africa, Australia, South Korea and Europe. The workshop was supported by a grant from the International Veterinary Vaccinology Network (IVVN), a close partner of AfVANET that have supported this network since its establishment. The workshop permitted fruitful exchanges among participants and favored contacts for future collaborations.
The inaugural talk was given by Prof Mustapha Oumouna, University of Medea, Algeria and AFVANET General Coordinator. He presented the different steps leading to the establishment of AFVANET and the purpose and goals of the network. The inaugural speech was followed by six sessions spread across two dayss.
Day 1 – March 19th, 2019
The first session entitled "Animal and human vaccines in Africa: need, availability and opportunities for innovation" was chaired by Prof. Christine Maritz-Olivier, University of Pretoria, South Africa. It was dedicated to surveys of the most important human and animal infectious diseases in the five regions of Africa presented by AFVANET members Dr Yakhya Dieye (Northern region), Dr Kwabena Duedu (Western region), Dr Gazahegne Mamo (Eastern region), Dr Jerome Nyhalah Dinga (Central region) and Dr David Lazarus (Southern region).
The second session of the workshop was chaired by Dr Lucilla Steinaa (ILRI) and focused on the importance of networking in vaccine research and R&D in Africa. Dr Tim Connelley (The Roslin Institute), director of the IVVN, presented the range of activities of this organization aiming to bring together partners and stakeholders from UK, LMICs and other countries to promote vaccine development for livestock diseases. Dr Kristin Stuke from GALVmed, then described the current activities of this not-for-profit organization that aim to overcome the challenges preventing animal health to be available to people by connecting relevant partners and promoting products and market development. The final talk of the session was from Dr Tabby Karanja, International Development Research Centre (IDRC), who presented a study on the impact of gender in vaccine adoption using thermostable Newcastle disease vaccine among users in Kenya.
The third session entitled "The role of African and international institutions in the fight against infectious diseases" was chaired by Dr Tim Connelley and contained seven presentations. Firstly, Dr Lucilla Steinaa presented the ILVAC vaccine platform and the development of vaccine against African Swine Fever, East Cost Fever and Contagious Bovine/Caprine Pleuro Pneumonia (CBPP) at ILRI. Secondly, Prof. Christine Maritz-Olivier, University of Pretoria spoke about a molecular immunology study analyzing the regulation of T and B lymphocytes in response to infestation by Rhipicephalus microplus. She additionally mentioned a partnership approach involving researchers, farmers and industry in the fight against tick and tick-borne diseases in South Africa. Prof Denise Doolan, James Cook University, Cairns, Australia, then described a combined systems approaches to identify Plasmodium falciparum antigens for clinical development and the identification relevant biomarkers. In the next talk, Stefano Massori, STAR-IDAZ IRC discussed the priority diseases established by the OIE and STAR-IDAZ efforts to coordinate research to develop new strategies and tools for animal disease control. Dr Jennifer Mabuka from the African Academy of Sciences (AAS) then presented the AAS strategies to build capacity in clinical trials and establish sites in Africa. Next, Dr David Shamaki, National Veterinary Research Institute (NVRI), Vom, Nigeria gave a lecture on the production of bacterial and viral vaccines for animals at the NVRI. The last speech of the session was made by Dr Philip Bejon, Kenya Medical Research Institute (KEMRI) who presented activities at KEMRI including clinical trials for several human and animal vaccines in Africa, bio banking, and identification of biomarkers to distinguish different infections.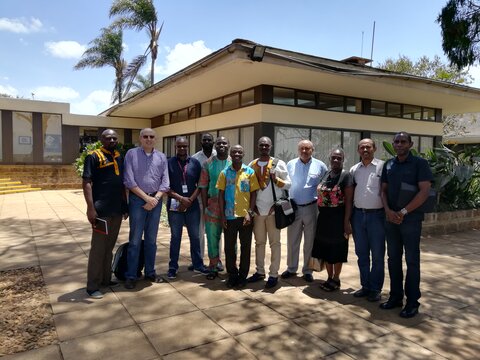 Day 2 – March 20th, 2019
The second day of the workshop began with a session entitled "AfVANET Women in R&D against infectious diseases" chaired by Prof. Denise Doolan. Dr Afolayan Funmilayo, University of Ibadan, Nigeria and member of the AfVANET coordination committee presented her work on antiparasitic and immunomodulatory properties of compounds from plants used in traditional medicine. Next, Dr Nontobeko Thema, University of Pretoria, South Africa presented a study screening peptides for the design of multi-epitope vaccines against Ehrlichia ruminantum, a bacterial pathogen transmitted by ticks. Dr Maroua Bettaieb, National School of Veterinary Medicine, Tunisia then concluded the session with a talk on strategies for implementing efficient vaccination in avian.
The fifth session entitled "Young African Voices" was dedicated to early career researchers. Dr Akinbobola Jones, University of Abuja, Nigeria, member of AFVANET coordination committee began the session by discussing the importance of targeting food animal reservoirs for prevention of Trypanosoma brucei gambiense in Africa. Dr Abraham Ali Mohamed, Ethiopian Public Health Institute, then presented a cross-sectional sero-analysis aiming to find whether Middle East Respiratory Syndrome Coronavirus (MERS-CoV) could be transmitted to from camels to humans in Ethiopia. Next, Moussa Dia, Institut Pasteur de Dakar, Senegal spoke about the development of a live attenuated vaccine strain of West Nile virus. Lastly, Dr Tshifhiwa Nefefe, University of Pretoria, South Africa presented a systems biology approach in a sheep model to find innate immune actors that can improve vaccines against Ehrlichia ruminantum.
The next session was dedicated to infectious diseases in Africa and began with a talk from Prof. Ignacio Moriyon from Spain who highlighted the importance of the vaccines in the fight against brucellosis in Africa. Prof. Denise Doolan then gave an overview of vaccine trial efforts in Africa in order to eradicate major infectious diseases, and this was followed by the talk of Dr Arijit Sil from International Vaccine Institute (South Korea).
Prof. Mustapha Oumouna closed the two day workshop by thanking IVVN for the financial support of the workshop, as well as the participants and their efforts in making the workshop a success. Furthermore, special thanks were presented to Dr Vish Nene (ILRI) for his endless support and advice. Prof. Mustapha Oumouna concluded the meeting by mentioning the tremendous work done by AfVANET founding members and AfVANET hopes that other activities will be programmed in the near future.
Report written by AfVANET founding members.