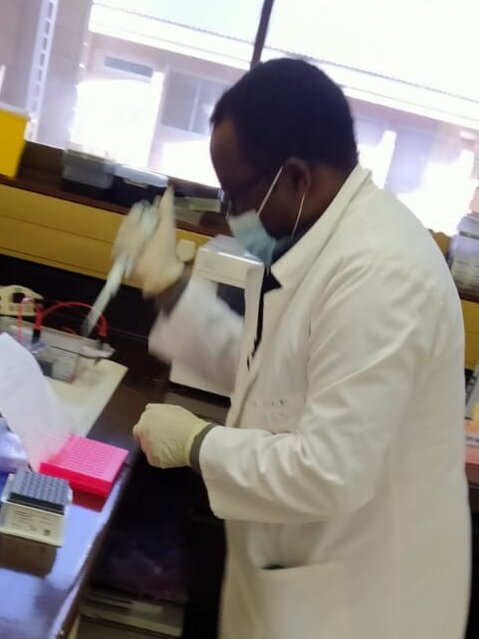 Lecturer and Researcher
University of Ilorin
Email
idolorunshola

[at]

yahoo.com
Biography
I have working, training, and teaching experience in various aspects of Veterinary Medicine and Microbiology. I graduated as a veterinarian in 1995 from Ahmadu Bello University, Zaria, Nigeria. My MSc and PhD degrees were in Medical Microbiology from the Department of Medical Microbiology and Parasitology, College of Medicine, University of Lagos, Nigeria, in 1998 and 2008, respectively. My PhD was in collaboration with Southern University at New Orleans, USA, where I had a hand on bench work training In Molecular Biology under the supervision of Prof. David S. Adegboye. I was subsequently linked up with the Infectious Disease Unit at the Health Sciences Center, Louisiana State University, where I carried out molecular characterization of Ureaplasma isolates from Nigeria, the molecular aspect of my Ph.D. work. The Ph.D. work was titled ''Studies on Human Urogenital Mycoplasmosis in Patients Attending STD clinics at Lagos and Jos University Teaching Hospital in Nigeria''. I earned my Master of Public Health qualification (MPH) in 2018 at Staffordshire University, UK. My dissertation was titled : ''Review of Tuberculosis in the Underserved Populations in the UK''. I have worked and lived in Wales, Scotland, and England for 8 years, with hands on trainings and affiliations with various organizations such as the Public Health England, Global Alliance for Veterinary Medicines, Supporting Evidence Based Interventions of the Edinburgh University, Animal and Plant Health Agency, UK (Mycoplasma Group), Mycoplasma Experience LTD, UK. I am pleased to be adding a visit to Botswana National Veterinary Laboratory among laboratories I have visited. I have teaching experiences in all aspects of microbiology, including Bacteriology, Mycology, Virology and Immunology, researching and publishing in these subject areas covering diseases of animal and human hosts. Following the establishment of my mycoplasma diagnostic and research laboratory, I engaged myself in an in-depth mycoplasma research focusing on CBPP and CCPP. Administratively and technically, I serve as a Consultant mycoplasmologist to our Veterinary Teaching Hospital and Laboratory Manager for the Fleming funded project that led to the establishment of antimicrobial resistance laboratory in the university. I am presently the post- graduate Coordinator and the Head of the Department of Veterinary Microbiology. I have served as acting Sub-Dean in the Faculty and represented the Faculty at various committee levels in the University and presently a Senate member. I had won several grants at the University, including Gates foundation to review ruminant diseases of high priority in Nigeria, a grant to establish the Mycoplasma Diagnostic and Research Laboratory with pilot trials research focusing on CCPP and CBPP in ruminants in Nigeria. Recently, I received the Professional Development Support Grant awarded by the Society for Applied Microbiology, UK, for research training visit to BNVL. It is my great desire to have more equipment and materials for PCR assays in my laboratory, to enable me step up my research activities and assume a reference status for CBPP in my region. I have a collaboration with APHA, UK and desired to have some trainings using modern techniques on phenotypic and genetic surveys of ruminants's mycoplasmosis in Nigeria with particular references to the aetiologies of CBPP and CCPP in cattle and goats in Nigeria.
Research interests
Diagnostic research activities of mycoplasma diseases of ruminants particularly the contagious bovine pleuropneumonia the cattle plaque of Africa and vaccine development and utilization of vaccine to control CBPP in the field in Nigeria.
Projects you're working on
serological and molecular survey of ruminants' mycoplasmas in various abattoirs and herds in iIorin, Nigeria. This involved the use of prescreening of sera samples from cattle and goats of suspected mycoplasma infections using BoviLAT and CapriLAT prior to the use of serological techniques (cELISA, immunoblotting, CFT), and the use of specific genetic materials techniques (PCR or RT-PCR) prior to the use of culture to detect CCPP and CBPP in ruminants.
Host species
Cattle
Small ruminants
Stage of vaccine development
Antigen discovery and immunogen design