How technology platforms allow The Vaccine Group to address animal and human vaccine development gaps
What is The Vaccine Group?
Since its inception in 2017, The Vaccine Group (TVG) has accrued proprietary technology platforms for use in the development of novel tunable viral-vector vaccines to prevent infectious diseases in animals, including zoonoses which have the potential to transmit from animals to humans. The attributes of these vaccine technology platforms also allow TVG to address some of the intractable gaps in the animal and human health global market for infectious disease control. TVG occupies the research segment of the vaccine development continuum and aims to deliver vaccine constructs and data that support the proof-of-principle stage gate for further exploitation through licensing to commercial partners.
Who is involved?
TVG has attracted several grants from UK and US governments that have allowed the development of prototype vaccines for important human health and livestock health diseases. Much has been learnt about the capacity of the platform technologies through these projects and several candidate vaccines are in place. In addition, investor funding has allowed progression of additional vaccines for emerging pandemic diseases, namely ASF and Covid-19. The third aspects of TVG's success to date is the growing partnership with a commercial animal health company for the development of important swine vaccines, one of which to the proof-of-concept stage. TVG was originally spun out from the University of Plymouth (UoP) in 2017. Our experienced 10-strong team includes three postdocs and is led by Dr Jeremy Salt, who as CEO brings 30 years of experience in the animal health field. The Laboratory is led by Dr Michael Jarvis, TVG's Chief Scientific Officer. Michael has spent his career as an academic researching the manipulation of the herpesvirus genome for the development of vectored vaccines. He holds a joint position with the University of Plymouth, UK as an Associate Professor of Viral and Immunology. The Company is backed by university IP commercialisation specialist Frontier IP Group plc, the University of Plymouth, and individual private investors. Frontier IP provides strategic support and technical guidance to the Company, including the expertise of Matthew White, Frontier IP's Chief Commercialisation Officer.
How does the recombinant viral vector technology work?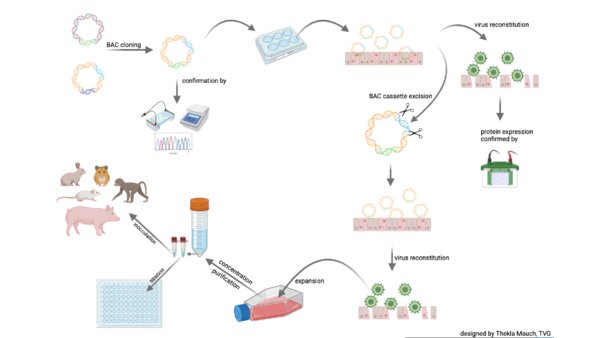 Through collaboration with several research groups, a suite of tuneable herpesvirus-based vector vaccines has been developed to address specific pathogen needs. The attributes of the platform allow vaccines to specifically target both B and T cell immunity, allow multi-gene insertion and expression, and promote high quality immunological responses over a prolonged period post-immunisation.
Which diseases or projects are you currently working on?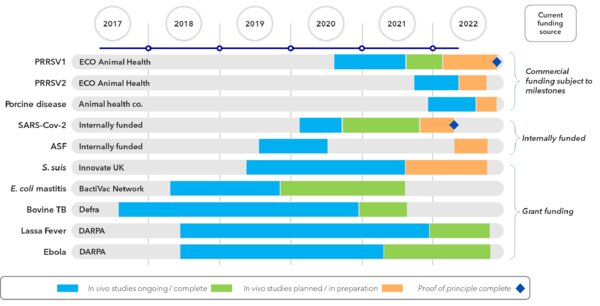 Our strategy is to develop herpesvirus-based vaccine platforms for use in animals to protect them against infectious disease. These diseases include both economically important livestock diseases, such as coliform mastitis in cattle, African Swine Fever and PRRS in pigs, and zoonotic diseases that are transferred from animals to humans, such as Lassa fever, tuberculosis and Streptococcus suis. We also have a SARS-CoV-2 candidate vaccine for use in humans directly.
How can members find out more?
Please contact the CEO Jeremy Salt at jeremy [dot] salt [at] thevaccinegroup [dot] com or visit our website thevaccinegroup.com.
Vectored vaccines