Madeleine Clark, Rift Valley fever virus epidemiology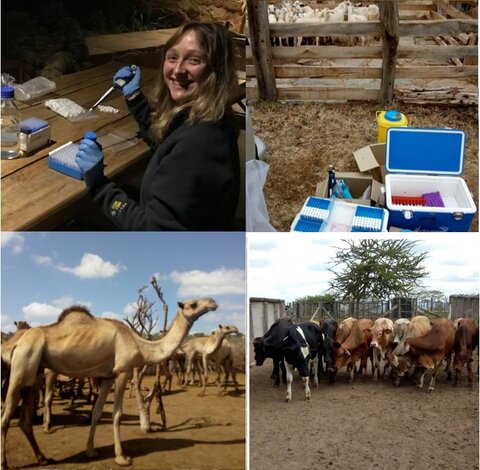 Many IVVN members will know Madeleine as the coordinator of the UK Veterinary Vaccinology Network which she has managed for the last four years. Madeleine has enjoyed this role immensely through all the activities the UK Veterinary Vaccinology Network has been involved in. In this blog post, Madeleine tells us about her day-to-day job as a DPhil/PhD candidate working on Rift Valley fever virus epidemiology.
What is your name and job title?
Jambo! Karibu sana to my blog post for the International Veterinary Vaccinology Network. My name is Madeleine and I am a second year PhD/DPhil student based between The Pirbright Institute, The Jenner Institute – University of Oxford in the United Kingdom and The KEMRI-Wellcome Trust programme – perfectly positioned on the East coast of Kenya in Kilifi.
What sparked your interest in veterinary vaccines?
My interest in emerging diseases began during an afternoon in the school library where I came across the DK Eye Witness EPIDEMIC book which unleashed my interest in deadly diseases (and still has pride of place on my bedside table!). This interest, coupled with adventure stories from my parents who are archaeologists, made me want to have a career that allowed me to travel and 'hunt out' viruses.
Tell us about how you got to where you are today
I took a year out when I was 18 and spent four months working in a community of leprosy and TB patients in the North of India – a real eye opener, and it wasn't until years later I learned about the science behind these diseases.
I then went on to study a degree in Microbiology with Virology at the University of Leeds, UK where my dissertation looked at Human endogenous retroviruses and their association with autoimmune diseases (NB for those of you that want a fantastic science fiction read Darwin's Radio tells a great story of science, archaeology and what endogenous retroviruses could do to evolution!).
Having completed my BSc at Leeds, I went to the London School of Hygiene and Tropical Medicine where I studied an MSc in Control of Infectious Diseases. I attended 'the London School' in 2014-2015 and hence was there when the Ebola outbreak occurred in Western Africa. During this time we received many lectures on emerging diseases; there was one lecture and paper that stood out to me 'Infections at the Animal/Human Interface: Shifting the Paradigm from Emergency Response to Prevention at Source (Heymann et al. 2012)' This really sparked my interest in zoonotic diseases and understanding spillover events between animals and humans.
Why is your research important?
My DPhil research focuses on seroepidemiology of Rift Valley fever virus in Kenya in wildlife, livestock and humans; conducting a field trial assessing the immunogenicity of a novel RVFV vaccine in livestock and finally linking this together to assess the impact RVFV vaccination has on RVFV transmission dynamics in livestock and public health in general.
Rift Valley fever virus (RVFV) is a virus that infects mosquitoes, wildlife, livestock and can subsequently 'spillover' into the local human population. Outbreaks occur following heavy persistent flooding which leads to amplification of virus in mosquito species causing onward infection into livestock species. Most human infections occur through contact with blood and tissues of infected animals. It causes mortality in young livestock and abortions in those that are pregnant. In humans' symptoms can vary from febrile illness, to blindness and haemorrhaging. Currently there are still a lot of questions unanswered with the virus and how it is maintained in the environment for long interepidemic periods. There is no vaccine for human use and there are a number of issues with vaccines for veterinary use.
This research is even more imperative now that much of East Africa has seen a lot of rain this year, and outbreaks have been reported in both livestock and humans in Kenya and Rwanda.
What do you love most about your PhD?
Every day is different, I work between four different institutes in two countries, in the field, laboratory and doing computational work. I get to work with immunologists, clinical trial managers, regulators, veterinarians, clinicians, epidemiologists, modellers and government officials. It's a very colourful job, especially spending time out in the African Savannah and learning more about diseases and the interface between animals, environment and humans.
What benefits do you hope to get from being a member of the International Veterinary Vaccinology Network?
I hope to meet and collaborate with researchers internationally and I have the opportunity to learn about research fields and topics I have not necessarily come across before. I am particularly interested in engaging with veterinary vaccine end-users.
What advice you would pass on?
Take every opportunity to network – it really is invaluable. The IVVN has many opportunities from attending annual conferences and workshops to applying for lab exchanges and pump-priming grants. If there is anything you would like to do contact the IVVN team, it really is a network for its members!
For more information click here.
Follow Madeleine on twitter @madeleineclark0990