Empowering the Future: IVVN's SciFest2023 Outreach Festival in Kenya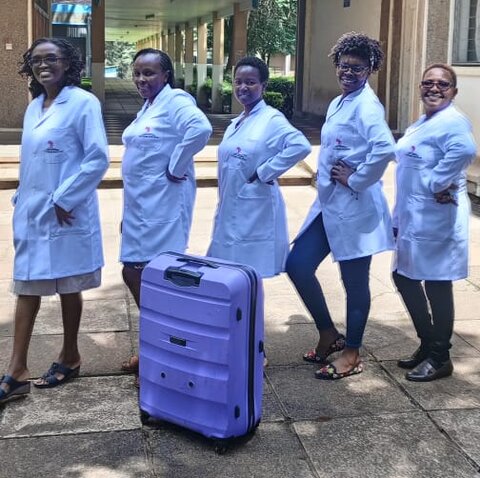 In a remarkable effort to promote gender equity in veterinary vaccinology and inspire the next generation of scientists in Africa, the African Schools Outreach Programme (ASOP) team of scientists, in collaboration with IVVN, organised an outreach festival in Kenya from July 10th to 15th, 2023.

Known as SciFest2023, this festival brought together a dedicated group of female scientists, led by Dr Esther Kanduma from the University of Nairobi, and including ASOP coordinators, Dr. Funmilayo Afolayan from Nigeria and Dr. Glory Mbah from Cameroon. The collective mission was to engage and empower students, particularly girls, by imparting knowledge and skills related to controlling animal and infectious diseases through vaccination. In addition to these activities, the event involved tree planting activities, enlightening students and pastoralist communities about climate change.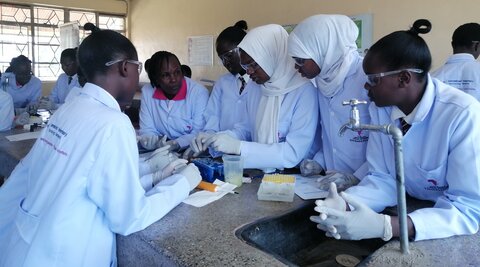 The team's first stop was at Embakasi Girls High School, where they conducted a rabies vaccination experiment that sparked the students' curiosity and provided them a glimpse into the world of veterinary science. The event was enriched by inspirational talks that provided insights into the personal career journeys of the team members. Furthermore, as part of their commitment to environmental conservation and climate change mitigation, the team introduced the students and teachers to urban farming technologies and engaged in tree planting. A student at the school shared her thoughts about her experience, saying:
I am extremely pleased with everything that happened today. You are the best, and I hope you will continue to motivate young scientists like us, not only at Embakasi Girls but in other schools as well.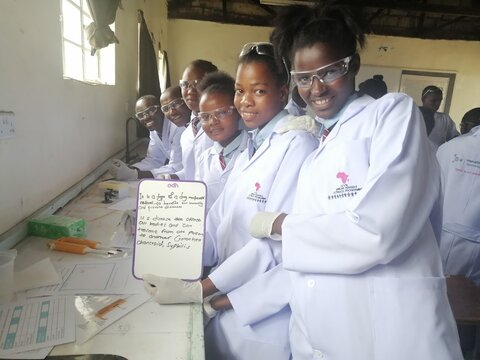 On the 12th of July, the team visited Senior Chief Rissa Mixed Secondary School in Kajiado County. Through an interactive and hands-on mock experiment, they introduced the students to the concept of rabies vaccination. The students found the workshop to be enjoyable, inspiring, and rewarding. It was heartening to note that almost all the students recognised that women could excel in the field of science. One participating student expressed her feelings, saying:
I feel incredibly inspired. Meeting such accomplished women has reassured me that education can open doors to remarkable opportunities both within our country and beyond.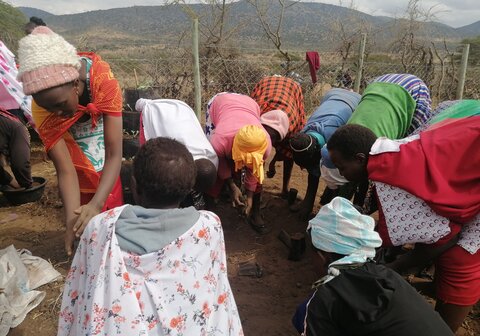 The next day, the team undertook a mission to empower a pastoralist group involving both women and men. The goal was to enhance their knowledge and skills in livestock production and animal disease control. During this session, the pastoralists were provided with training in climate-smart vegetable vertical garden farming, cultivation of drought-tolerant grasses, and the potting of tree seedlings. The positive outcomes of this interaction were immediately apparent. A group of young mothers and men approached the team, expressing their desire to resume their schooling and complete their basic education. This underscores the profound impact that education and empowerment can have on individuals and communities.
On 14th July, the team conducted a mock rabies vaccination testing experiment at Illbissil Girls Secondary School. The workshop was a memorable experience, concluded with a tree planting ceremony that involved students, facilitators, and teachers. The teachers expressed their appreciation for the workshop, highlighting its interactive and inclusive nature, its relevance to common vaccination issues, and the opportunity it provided for students to engage in hands-on experiments. One student expressed her enthusiasm, saying:
Today has been an absolutely amazing day. I've been greatly inspired by this incredible group of women. I admire each one of them, and my goal now is to achieve an A grade, enabling me to attend the University of Nairobi, or explore opportunities in Cameroon or Nigeria. I used to struggle with a negative attitude towards Chemistry, but now I feel relieved and hopeful. These ladies are now my mentors.
On the final day of SciFest2023, a similar session took place at Sajiloni Girls Secondary School. Once again, students enthusiastically reported that the workshop was not only fun and rewarding but also reinforced the understanding that women could pursue careers in science. The Science teacher participating in the session appreciated the course content, structure, and the facilitators' adeptness at connecting with Kenyan girls and offering guidance about STEM subjects.

SciFest2023 in Kenya was a resounding success, leaving a significant impact on the students, teachers, and pastoralist communities. This outreach festival exemplifies IVVN's dedication to promoting gender equity, empowering the youth and women in STEM, and fostering a diverse and inclusive environment in education, research, and science careers. As the students and community members expressed their gratitude and inspiration, it is evident that the efforts of the team have sown the seeds for a brighter future, not only in Kenya, but also in the field of veterinary vaccinology worldwide!