IVVN African Schools Outreach Programme shortlisted for Nature Research Science Outreach Award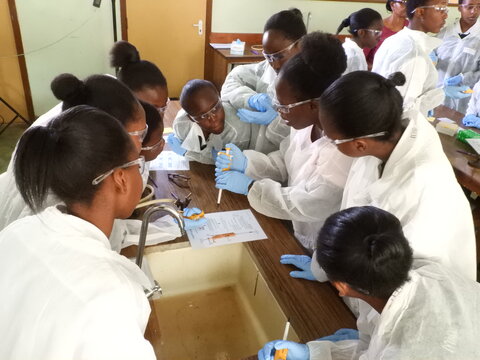 The International Veterinary Vaccinology Network (IVVN)'s African Schools Outreach Programme has been shortlisted for a 2020 Nature Research Award for Inspiring & Innovating Science, in the Scientific Outreach category.
In 2018, Nature Research, in partnership with The Estée Lauder Companies, established the awards, which are divided into two categories – Scientific Achievement and Scientific Outreach. The Scientific Outreach category highlights initiatives that support girls or young women to engage with and pursue STEM subjects, or which increase the retention of women in STEM.
The African Schools Outreach Programme is a collaborative project involving partners based in the UK and Africa including the IVVN, the Easter Bush Science Outreach Centre (EBSOC) at the University of Edinburgh, African Women in Agricultural Research and Development (AWARD), the African Vaccinology Network (AfVANET), the International Livestock Research Institute (ILRI), the University of Buea, the University of Ibadan and the University of Zambia. By providing women scientists working in veterinary vaccinology in Africa with public engagement training and resources, the programme aims to equip a network of African scientists with the knowledge and tools to host outreach workshops in their local schools, with the ultimate goal of inspiring young girls to be the next generation of scientists.
The workshops focus on the importance of animal vaccines to prevent devastating diseases of livestock on which millions of African livelihoods depend. During the workshops, students learn how to use a micropipette, perform their own mock experiments and have the opportunity to interact with the scientists running the workshop to hear about their careers and ask questions. To date, the programme has reached over 200 students across schools in Kenya, Nigeria, Zambia and South Africa, and will be implemented in schools in Cameroon, Ethiopia and Uganda in the future.
Nature Research announced the 2020 Scientific Outreach shortlist on 4 September 2020 and the winner will be announced in October 2020. Also shortlisted are Chicas en Technologia, GFPA Aviation and Space Camp, the Organization for Women in Science for the Developing World, PROGRESS (Promoting Geoscience Research, Education and Success) and Teen-Turn. The winner will receive a grant of over $35,000 to spend on further activities and will have access to mentoring opportunities hosted by Nature and The Estée Lauder Companies.
Outreach