IVVN-KeAWARD African Schools Outreach Team deliver experimental workshops on Covid-19 vaccination across three schools
The IVVN-KeAWARD Outreach team in Kenya has continued to sustain mentorship and role modelling activities to grow the number of high school girls pursuing science courses and future STEM careers. In November 2021, the team visited two schools in Taita Taveta County and one school in Nairobi County, delivering the IVVN vaccination workshop to 195 students over three school visits.
On 4 November, the IVVN-KeAWARD Outreach team visited Canon Kituri Secondary School in Taita Taveta County. At Canon Kituri Secondary School, the afternoon started with motivational and career guidance talks to the entire school of 805 students consisting of 354 girls and 451 boys. 52 students aged 15-19 years were then engaged in the experimental workshop on Covid-19 vaccination. During the workshop, students learn about the science of COVID-19, case numbers in Kenya and prevention using vaccination and other measures. They then learn how to use micropipettes and have the opportunity to perform a hands on experiment using their new skills.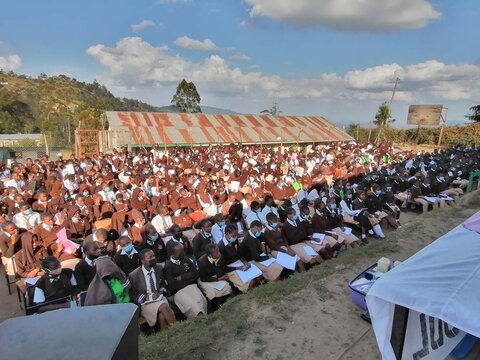 Feedback collected from the Canon Kituri students indicated that they found the interaction to be rewarding, enjoyable, fun, inspiring, interesting, informative and exciting. A quarter found the exercise challenging. The favourite parts of the workshop included using pipettes and testing and analysing the samples. All the students agreed that women can be scientists, reported learning that vaccines are used to prevent animal and human diseases and that they would tell their families about the experience they had during the workshop. All of them indicated they could become scientists and one student commented: "I would like to thank the scientists and acknowledge the efforts of my school for bringing us scientists. I have really thought myself a lot of things and I now know that anybody can become a scientist. This session was really exciting. I know that YES I CAN."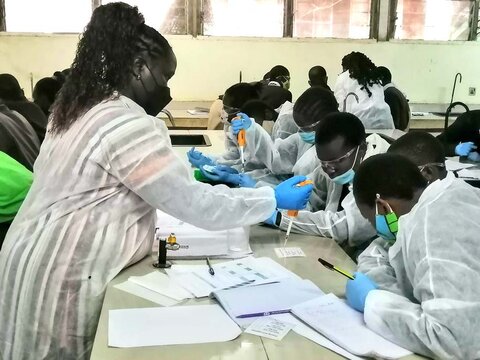 Two days later on 6 November, the team visited Mwakitawa Girls Secondary School in Taita County to deliver the interactive mock vaccination experiment to 80 girls aged 15-18 years old. Reflecting on the workshop, Mwakitawa girls said:
"Thank you very much. You are really inspiring women".
"My favourite part of the workshop is that I have to change my attitude that from today I will be an
Agricultural Scientist. You have inspired me and I would like to join Nairobi University to improve my skills".
"I really appreciate the doctors for their good job. It is inspiring and it has made me change my career to a Vaccinologist. THANK YOU ALL!!"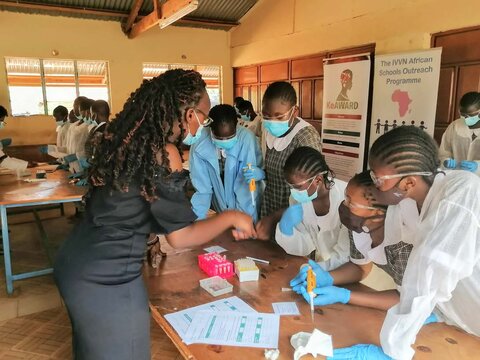 On 27th November, the IVVN-KeAWARD Outreach team visited Loresho Secondary School, Nairobi where they delivered the interactive mock vaccinology experiment to 63 students.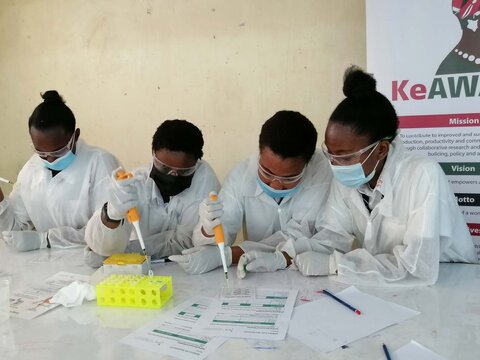 Congratulations to the Kenyan Outreach Team for three fantastic engagements!
Dr Esther Kanduma (UoN/KeAWARD)
Dr Virginia Wangondu (UoN/KeAWARD)
Dr Felister Nzuve (UoN/KeAWARD)
Dr Dora Kilalo (UoN/KeAWARD)
Ms Susan Njuguini (National Museums of Kenya/ KeAWARD)
Ms Celestine Makokha (KALRO)
Dr Esther Maina (UoN)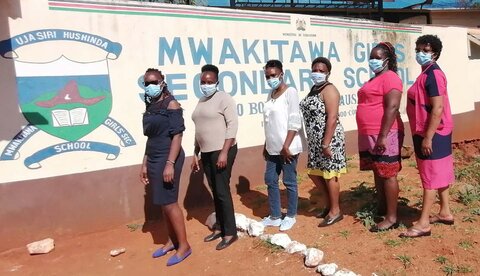 The IVVN African School Outreach activities carried out in November 2021 at Canon Kituri and Mwakitawa Girls Secondary Schools in Taita County and Loresho Secondary School in Nairobi County were facilitated by IVVN and locally coordinated by the Kenyan Chapter of the African Women in Agricultural Research and Development (KeAWARD). KeAWARD generously acknowledges financial support from IVVN towards these activities. We also acknowledge the logistical support provided by the Principals and Teachers in Canon Kituri Secondary School and Mwakitawa Girls in Taita County and Loresho Secondary School in Nairobi.
Six women scientists drawn from University of Nairobi (UoN), Kenya Agricultural & Livestock Research Organization (KARLO), and the National Museums of Kenya (NMK) facilitated the interactive hands-on vaccinology experiment in both Counties sharing inspiring stories on their successful career journeys. We wish to greatly appreciate the support and partnership of our host organizations which have continued to facilitate, encourage and offer in-kind support to the women researchers who volunteer to facilitate the outreach. KeAWARD greatly appreciates the commitment and dedication of the women scientists who coordinated, prepared and delivered the interactive mock laboratory experiment in the three schools.
Follow the progress of the project on our Twitter account (@IntVetVaccNet) and using the hashtag #InspiringFutureScientists.
Outreach