Webinar focuses on efforts to develop multivalent vaccines against Rift Valley fever and other important diseases
Rift Valley fever virus causes devastating disease in unpredictable cycles, hindering vaccination efforts. But could a combined vaccine that protects against other important pathogens help make vaccination more practical?
The International Veterinary Vaccinology Network (IVVN) co-hosted its latest webinar with the Livestock Vaccine Innovation Fund of Canada's International Development Research Centre (IDRC). Two early career researchers from the Moroccan animal health company MCI Santé Animale presented their work and answered questions from the online audience.
The webinar focused on the zoonotic viral disease Rift Valley fever (RVF) and efforts by the MCI Santé Animale team to develop combined vaccines against RVF and other important veterinary pathogens.
RVF is a vector-borne disease that affects sheep, cattle and goats and can also spread to humans. In livestock, the disease causes abortion of foetuses, as well as high levels of mortality in young animals. Infection in humans usually presents as a mild flu-like illness, but more serious cases can lead to life-threatening haemorrhagic fever and brain inflammation.
Achieving solid herd immunity through livestock vaccination could be an effective way of controlling RVF epizootics. However, because of the disease's episodic nature with long periods without visible disease, achieving enough uptake of an RVF vaccine for herd immunity has proven difficult.
The webinar presented two aspects of a project that aims to develop combined vaccines for RVF and other diseases that occur in the same regions: sheeppox and peste des petits ruminants (PPR), which both affect small ruminants, and lumpy skin disease, that affects cattle. Combining vaccines could make RVF vaccination more practical during periods between epizootic events. The project was funded by IDRC from its Livestock Vaccine Innovation Fund.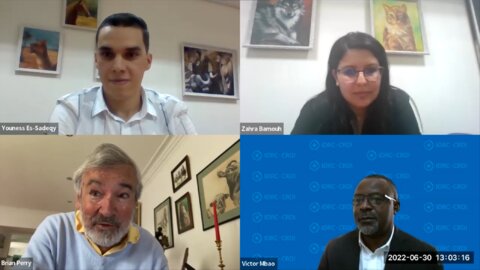 At the webinar, Youness Es-Sadeqy, presented the sheep and goat pox and lumpy skin disease aspects of the project. The work he described revealed a viral interference between the capripoxviruses that cause sheeppox and lumpy skin disease with RVF virus, which has made the development of a combined vaccine difficult.
Dr Zahra Bamouh described the second aspect, which involved evaluation of a safe and efficient combined live vaccine against RVF and PPR.
They were introduced by Dr Victor Mbao, Senior Program Specialist at IDRC, and the question-and-answer session was moderated by IVVN board member Professor Brian Perry, who coordinates the monthly webinar series.
You can watch the full webinar recording below.