National Center for Genetic Engineering and Biotechnology (BIOTEC), Thailand

Established in 1983, BIOTEC is a member of the Thai government's National Science and Technology Development Agency (NSTDA). The institute currently employs more than 400 research scientists and covers a wide research spectrum from agricultural science to biomedical and environmental research.
Thailand plays an increasingly important role in global food security, and its aquaculture and livestock industries are expanding. This expansion means that more effective veterinary health management technology is needed to cope with product yield and quality demands, as well as emerging and re-emerging diseases and pathogens. BIOTEC has set up the Integrative Aquaculture Biotechnology Research Group and the Veterinary Health Innovation and Management Research Group to focus on these issues.
Aquaculture research at BIOTEC
Aquaculture is the fastest-growing food sector that contributes to food security and revenue globally, with more than a billion people relying on fish as their major protein source.
One of the major constraints for the intensive growth of fish is financial loss due to outbreaks of infectious diseases. The Fish Health Platform at Centex Shrimp, a collaborative centre between BIOTEC, NSTDA and the Faculty of Science at Mahidol University, has been actively researching various aspects of fish diseases and control. This platform's research includes emerging infectious diseases, pathogen discovery, molecular diagnostics, feed additives and vaccines for economically important aquaculture fish species such as tilapia (Oreochromis species) and Asian sea bass (Lates calcarifer).
Algal technology in shrimp aquaculture
Shrimp aquaculture remains threatened by significant losses due to lethal viral pathogens such as white spot syndrome virus (WSSV), and no practical and effective methods have been established to control WSSV.
One highly effective technology that can be used to combat viruses is RNA-based gene silencing technology (RNAi). This uses specific double-stranded RNA (dsRNA) to knock down viral genes. BIOTEC researchers, led by Dr Vanvimon Saksmerprome, are working on developing novel dsRNA production platforms in microalgae that can be safely used in shrimp farms.
Dr Saksmerprome leads the institute's Shrimp Molecular Biology and Biotechnology team, which conducts research on many different aspects of shrimp production, from genomics to pathogens. In 2018, Dr Saksmerprome was awarded funding from the Thailand Research Fund and the UK's Royal Society, for a project titled 'Establishment of RNAi-based algal technology for sustainable disease control in shrimp cultivation'. This work, which is in collaboration with Professor Colin Robinson at the University of Kent in the UK, will use the microalga Chlamydomonas reinhardtii as a cellular factory. Professor Robinson's team has developed a simple, low-cost technology for precise engineering of the C. reinhardtii chloroplast for producing biomolecules.
C. reinhardtii does not produce any endotoxins or infectious agents, and so it should not raise any health risk or environmental contamination. Production of a dried microalgal preparation for shrimp feed supplement is environmentally friendly, using a light-driven cultivation process. Therefore, use of antiviral microalgae in aquafeed for disease control will establish a new paradigm for shrimp cultivation for future sustainable food production.
Dr Saksmerprome and Professor Robinson's project recently received additional funding to extend the collaboration for three years through the Royal Society's International Collaboration Award.
Other veterinary vaccine development work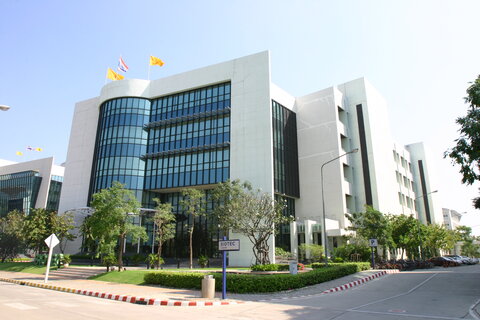 The Virology and Cell Technology Laboratory under the Veterinary Health Innovation and Management Research Group focuses on vaccine development against economically important viral pathogens that affect swine and poultry. Currently, the laboratory's research includes projects on porcine epidemic diarrhoea virus (PEDV), porcine reproductive and respiratory virus (PRRSV), swine influenza virus (SIV), porcine circovirus (PCV), and Newcastle disease virus (NDV). As well as these economically important veterinary pathogens, the laboratory also works on zoonotic viruses that pose potential risks for human health such as influenza and rabies viruses.
Funding sources for this research include the Thai government and private companies, as well as recently awarded international funding. Two projects, one to develop vaccines against NDV and another to develop PRRSV and SIV vaccines, are currently supported by the Newton Fund. Dr Anan Jongkaewwattana and Dr Nanchaya Wanasen, the Thai co-PIs, are working in close collaboration with leading researchers from St George's University of London, Imperial College London, and the Pirbright Institute.
Another project, aimed at development of a subunit vaccine against PCV2, forms part of a consortium funded through UK Research and Innovation's Global Challenges Research Fund. This collaboration brings together different expertise from the UK's University of Kent, University College London, Imperial College London and the London School of Hygiene and Tropical Medicine and Thailand's King Mongkut's University of Technology Thonburi and BIOTEC (Dr Peera Jaru-Ampornpan).
IVVN-funded projects at BIOTEC
institute blogs contributed_blog