World Animal Vaccination Day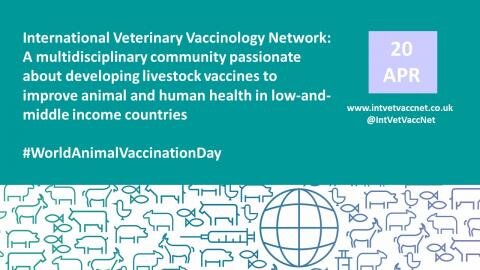 Animal diseases have a significant impact on societies in low-and-middle income countries (LMICs), through reduced animal health, impaired welfare, reduced livestock productivity and public health. Vaccines offer the most sustainable route to control and prevent many devastating diseases of livestock.
World Animal Vaccination Day, created by HealthforAnimals and the World Veterinary Association, is celebrated on the 20th of April each year to raise awareness of the vital role that vaccines play in protecting the health of animals.
The International Veterinary Vaccinology Network (IVVN) establishes multi-partnered, international collaborations that bring together the diverse skills that are required to accelerate the development of vaccines for livestock and zoonotic diseases in LMICs.
To facilitate collaborations between academics, industrial partners and others, the IVVN host annual meetings that explore a broad range of vaccine-related themes, and provide an opportunity for IVVN members to meet, and form new partnerships. The first meeting of the IVVN took place on the 26th & 27th March 2018 in Nairobi, Kenya and brought together 115 delegates from 23 countries. Scholarships are available for IVVN members to attend IVVN annual meetings, and 36 scholarships were awarded for researchers from the UK and LMICs to attend the first meeting of the IVVN. IVVN members can also apply for funding to host workshops, providing a platform for a focused exchange amongst researchers interested in a specific topic.
In addition to hosting networking activities, the IVVN delivers catalyst funding to accelerate vaccine research. Pump-priming grants (up to £100k) are available, and project proposals should be from collaborative teams of IVVN members that apply novel approaches to overcome challenges affecting vaccine development. Members can also apply for laboratory exchange awards (up to £10k) to facilitate the transfer of expertise between laboratories within the Network. The IVVN currently have calls open for both forms of catalyst funding, with a closing date of 1st June and 2nd July for laboratory exchange awards and pump-priming awards, respectively.
The IVVN believe it is important to disseminate news, events, publications, job vacancies and funding opportunities from the veterinary vaccinology community to our members. We achieve this by posting relevant information on our website, and compiling a monthly newsletter, which is circulated to all IVVN members. The IVVN are also on Twitter (@IntVetVaccNet) where we post daily updates on the activities of the network, and the vaccinology community.
The IVVN consists of 325 members from across 41 countries, and 56% of our members are from LMICs. Membership is open to individuals interested in improving vaccines for livestock and zoonotic diseases affecting agriculture. Read about the benefits of being an IVVN member here - registration is free, and found on our website.
By providing opportunities for our members to network, funding pump-priming and laboratory exchange awards, and being a central area for dissemination of information to the veterinary vaccinology community, we hope we can work together to develop new and improved vaccines for animals in LMICs.