IVVN African Schools Outreach Programme: Abadina College & Abadina Grammar School, Nigeria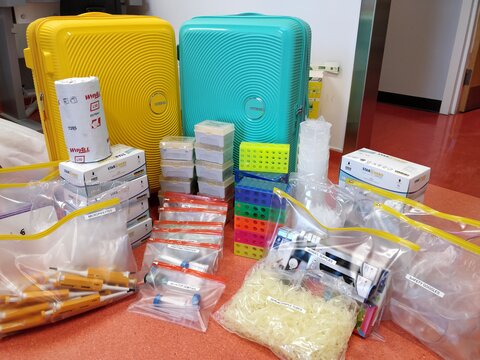 The IVVN African Schools Outreach Programme which aims at inspiring the next generation scientists through a series of interactive workshops for school students launched on 8th March 2019. Women from Kenya, Cameroon, Nigeria and Zambia met for the first time at International Livestock Research Institute (ILRI), Nairobi, Kenya and were trained by Easter Bush Science Outreach Centre (EBSOC) on public engagement and the delivery of schools outreach activities. The training was followed by the pilot outreach activity which was delivered to 40 students at Precious Blood Riruta Girls High School in Nairobi, Kenya.
After the training session in Nairobo, the IVVN shipped a mobile laboratory in a suitcase to Dr. Funmilayo Ibitayo Deborah Afolayan at the University Ibadan in Nigeria to enable implementation of the IVVN African Schools Outreach Programme in secondary schools in Nigeria. In conjunction with Dr. Glory Mbah, IVVN African Schools Outreach Programme Contributor from University of Buea, Cameroon, they trained four additional scientists from the University of Ibadan (Dr. Abiodun Wahab, Miss Nurat Muhammed, Miss Kabirat Sulaiman and Miss Moses Yinka) and formed the IVVN African Schools Outreach Team.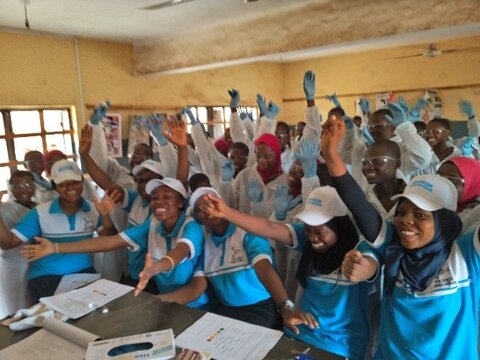 Together the team visited the two schools, Abadina College and Abadina Grammar School, on 22nd May 2019 and 23rd May 2019 respectively and delivered the hands on, experimental workshop to a total of 76 students. The workshop covered the science behind Rabies prevention and how vaccines work and gave students the opportunity to use micropipettes and perform their own scientific experiment.
Following the experimental session, three members of Nigerian Chapter of African Women in Agricultural Research and Development (NiWARD), Mrs Osas Adeniyi, Adeola Ogungbesan, Oyetoun Alonge and AyoJesutomi Abiodun-Solanke gave presentations on their scientific careers and the opportunities available.
Student from Abadina College:
Thank you, team IVVN for bringing this opportunity to our school. We are glad to have experienced this.
Follow the progress of the project on Twitter @IntVetVaccNet and using the hashtag #InspiringFutureScientists. For enquiries regarding the IVVN African Schools Outreach Programme, please contact IVVN Network Manager, Dr. Carly Hamilton at IVVN [at] roslin [dot] ed [dot] ac [dot] uk.
Outreach