IVVN African Schools Outreach Programme: Ole Tipis Girls High School, Narok Country, Kenya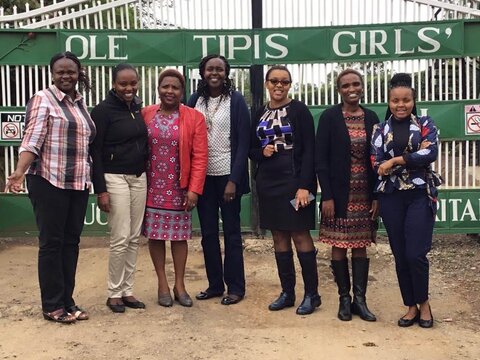 The International Veterinary Vaccinology Network (IVVN) Schools Outreach Programme aims to inspire the next generation of scientists in Africa through an interactive laboratory-based and mentorship activity targeting Secondary Schools. The Programme delivered by women scientists working in veterinary vaccinology was launched in March 2019 with a pilot activity at Precious Blood Girls High School in Nairobi, Kenya. Prior to this pilot activity, Tabby Karanja-Lumumba (KALRO, Kenya), Irene Kiio (ILRI, Kenya) and Esther Kanduma (University of Nairobi, Kenya) were among a group of six women scientists trained and equipped with knowledge and skills on communication, public engagement and how to deliver an engagement activity designed for young people in Africa through a workshop, developed and delivered by Easter Bush Science Outreach Centre (EBSOC). The team was also equipped with resources which included a 'laboratory in a suitcase' to deliver the programme to school pupils in Kenya.
Having been equipped with knowledge, skills and resources to teach, engage and mentor girls in Secondary Schools and driven by the desire to educate and motivate young female pupils to take up Vaccinology and Science-based careers, Tabby Karanja-Lumumba, Irene Kiio and Esther Kanduma trained four women scientists prior to delivering an Outreach Workshop at Ole Tipis Girls High School in Narok County, Kenya. Ole Tipis Girls' High School is classified as a National Girls' School in Kenya and it is located in a County that is mainly inhabited by the Maasai pastoralist community. Recently, there has been concerted effort to engage these pastoralist communities to sensitize them on the importance of education, create awareness on the need to educate the young girls and to empower the community to embrace community development driven by educational knowledge and skills.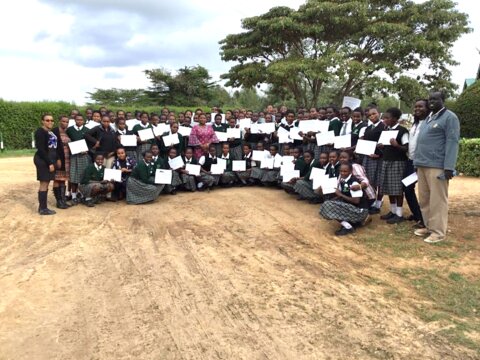 Having heard about the IVVN Schools Outreach Programme, Jackie Kirruti, an MSc student at Dedan Kimathi University who is a Maasai from Narok County, and is well aware of the challenges that Maasai girls face in their quest for education and in pursuing Science careers, invited the IVVN African Schools Outreach team to organize and deliver the Outreach activity to students at Ole Tipis Girls High School which has a population of 1013 students and 42 teachers. The team organized a visit to hold the interactive laboratory activity on Rabies vaccination and mentorship talks at the school with an aim of engaging and motivating the girls to take Science subjects and pursue Science careers as well as promote vaccinology courses. This was also an excellent opportunity for the girls to interact with successful women scientists in the field of Veterinary Science. To maximise on the opportunity and achieve higher impact, 80 girls were selected as participants in the laboratory workshop while the entire school of 1013 students participated in the mentorship and career guidance sessions.
Feedback was collected from the teachers and students after the activity. Students felt that the experience was fun, inspiring, interesting, challenging, informative, enjoyable and exciting. Their favourite parts of the workshop ranged from drawing a scientist, using the micro-pipette, conducting the rabies experiment, obtaining results for the positive and negative samples and interpreting the results. The majority of the pupils indicated their conviction that women can be scientists, they themselves could become scientists and would tell their families about the experience they had during the workshop.
Follow the progress of the project on Twitter @IntVetVaccNet and using the hashtag #InspiringFutureScientists. For enquiries regarding the IVVN African Schools Outreach Programme, please contact IVVN Network Manager, Dr. Carly Hamilton at IVVN [at] roslin [dot] ed [dot] ac [dot] uk.
Outreach