First IVVN webinar covers One Health, Covid-19 and lessons from veterinary vaccination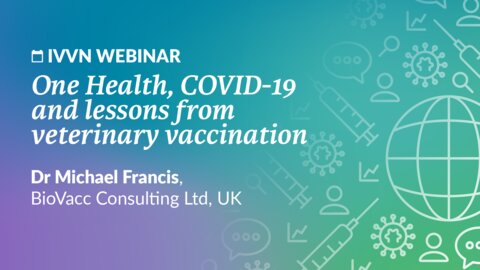 This week, the IVVN hosted its first webinar, with a timely subject: One Health, Covid-19 and lessons from veterinary vaccination. Dr Michael Francis of BioVacc Consulting Ltd and a member of the IVVN's Network Management Board presented the webinar to 150 attendees from 30 countries. The IVVN's director, Dr Timothy Connelley, chaired the session and attendees were able to ask questions via a chat function at the end of the presentation.
The first half of the presentation covered the One Health agenda, veterinary coronaviruses including bovine, porcine, poultry, canine and feline coronaviruses, and how we can apply the lessons learned from veterinary vaccination to human vaccinology. Dr Michael Francis then discussed virus vaccine technologies and highlighted a successful viral vectored ChAdOx1 Rift Valley fever vaccine that is an example of a One Health approach. The presentation concluded with an overview of how veterinary medicine can inform vaccine development for Covid-19, the different technologies currently being tested in Covid-19 vaccine candidates and an update on the current Covid-19 situation.
Thank you to Dr Michael Francis for a fantastic presentation and to the attendees for their great questions. A full recording of the webinar is available here.
events news