Webinar on catalysing elimination of dog-mediated human rabies by 2030 in Africa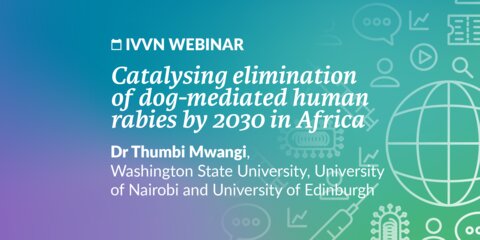 On Wednesday 27 January 2021, three days before World Neglected Tropical Diseases Day, the IVVN hosted a webinar on catalysing elimination of dog-mediated human rabies by 2030 in Africa. Dr Thumbi Mwangi, who holds positions at the University of Nairobi's Institute of Tropical and Infectious Diseases, Washington State University's Paul G Allen School for Global Animal Health, and the University of Edinburgh's Institute for Immunology and Infection Research, presented the webinar to 50 attendees. IVVN board member Professor Brian Perry chaired the session and asked questions from attendees.
The presentation began with an overview of rabies epidemiology, the burden of disease and identification of priority zoonotic diseases, including the increased focus of One Health across Africa. Dr Thumbi Mwangi then covered the science of rabies elimination and discussed the current global goal to eliminate human deaths from dog-mediated rabies by 2030. The final part of the presentation focused on catalysts for rabies elimination in Africa including domestic ownership and commitment to rabies elimination, innovations in the delivery of dog and human vaccines, and integration of rabies elimination programmes into the national healthcare system.
Many thanks to Dr Thumbi Mwangi for a wonderful talk, Professor Brian Perry for chairing the session and to all of the attendees for joining us. The full recording of the webinar is available here.
events news